It's hibiscus summer in paradise this month!!! As it is probably going to be a floral hibiscus summer. The Hibiscus flower is a very pretty flower, but it is also known to have a tart flavour. Hibiscus is known for being made into teas and also mixed in with other foods. Hibiscus has been around for generations. Today, we hear about claims made on behalf of the Hibiscus and how it is beneficial for our health. Some of these benefits that are only claimed, as of now, include helping to lower blood pressure, Some even claim that in scientific studies, the hibiscus flower can help induce labor. 

For example, a popular made drink from dried hibiscus in West Africa is called 'Zobo'. Zobo is one of the most popular marketable drinks made from Hibiscus. Zobo is served chilled – " On the Rocks" if you will. Besides Zobo and straight up teas, nothing much has really been done with hibiscus in its edible form. So, I decided to curate these recipes for set the tone. Before reading through, most of these recipes were made with refined edible hibiscus powder, so go on and grab yourself a pack. These are some famous hibiscus recipes sourced from the web.
Hibiscus Summer Recipes
Vegan Hibiscus Cheesecake
No bake chesscakes are the perfect stress free solution to the perfect dessert. Made with vegan biscuits, coconut oil and coconut cream, this cheesecake ticks all the boxes and a crunchy base and sweet & tangy cream layer – topped with vibrant fresh fruit for a fitting summer finish. A healthy but decadent option for special occasions. The filling is made with cocnut cream agar and a splash of hibiscus powder for a subtle tang.
Hibiscus and Oreo ice cream
Is it really summer without icecream? This summery treat from spiced harvest (me *wink) is the perfect for everyone and any course. This recipe is a feel good comfort overload. Crushed oreos gives it that crunch and best of all, you can swap out the cream for coconut cream. Oreos compliments that hibiscus tang with a sweet chocolate flavour and actually stays crunchy!!! No soggy biscuits…
Vegan Hibiscus Cookies
Nothing beats the smell of freshly baked cookies at home. These cookies are not a pretty sight but a joyful mouthful. Looking to make afternoon tea a little more interesting? These simple vegan butter cookies are topped with a vegan hibiscus buttercream and adds a different flavour to traditional biscuit and cookie tray.
Pink Hibiscus Iced Latte
Swap out your morning coffee and chai lattes fo the glorious beauty. The Merry Thought brings this floral themed iced latte which is the best addition to a summer line up so far. It is the perfect substitute for traditional lattes and it is perfect for sharing the spirit of summer with friends and family. This recipe is light and summery and is not just a pretty sight but a joyful sip.
Tangy Hibiscus Brownies
You really can never go wrong with a hearty brownie can ya? Dosen't matter what you put in it or how it bakes, if it has chocolate and you can cut it into perfect squares, it's a brownie. Trust me, there is nothing better than chocolate and hibiscus!!!! It's sweet and tang wrapped in a bite.. This is really my favourite hibiscus recipe. I make it every opprtunity I get and no on eis sick of it yet.
Hibiscus Chai Pudding
Love pink in the morning? This recipe from Burnt Oranges is a Healthy and delicious prep-ahead breakfast that can be made overnight for a speedy summery breakfast. Hibiscus and coconut flavour is literary the gold standard for summer flavour combinations – when you get bored of pina coladas of course.
Zobo Drink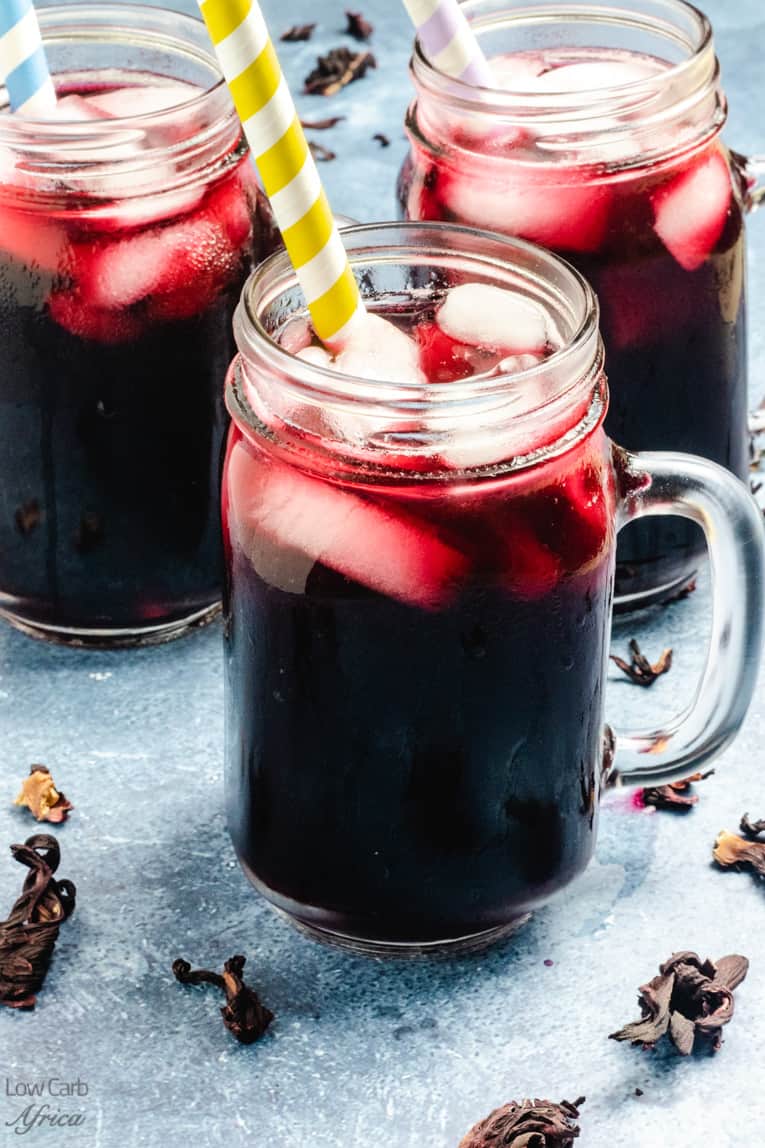 Well I sort of had to. Feels weird curating Hibiscus recipes without Zobo on the list. Looking for all round summer drink, this is it. Simple as it is, this is the most successful commercial use of Hibiscus so far. A perfect replacement for fizzy drinks and you can control what goes in it. The sweetner used for this drink has varied across online recipes with people going for a healthier version of this recipe.
Hibiscus Noodle
Summer isn's just sweet it can be a bit spicy too. These noodles from Planted 365 are extremely easy to make and the perfect substitute for regular cup noodles. Who would have thought about hibiscus and noodles. But this recipe pulls it off perfectly. Vibrant, colorful and beautiful!!! Can be paired with meat, fish or Tofu and topped with some dried herbs and sesame seeds.
Hibiscus Loaf Cakes
Had it with banana breads? This cake from chsugar is your new lifeline. Done in under 60 minutes, this subtly tart hibiscus powdered sugar makes for a sweet combination of summer and comfort food. The luscious glaze and fun red design in the middle make this loaf cake look almost as good as it tastes.